Smart inventory management and point of sale software that empowers your dispensary.
Why LeafOps?
Reliable cannabis retail software didn't exist, so we built LeafOps for all of the frustrated dispensary owners, managers, and budtenders who've had to deal with half-baked software.
LeafOps was built from the ground up with enterprise-grade technology for the cannabis industry. We help you stay in compliance and ensure your dispensary runs smoothly from front to back.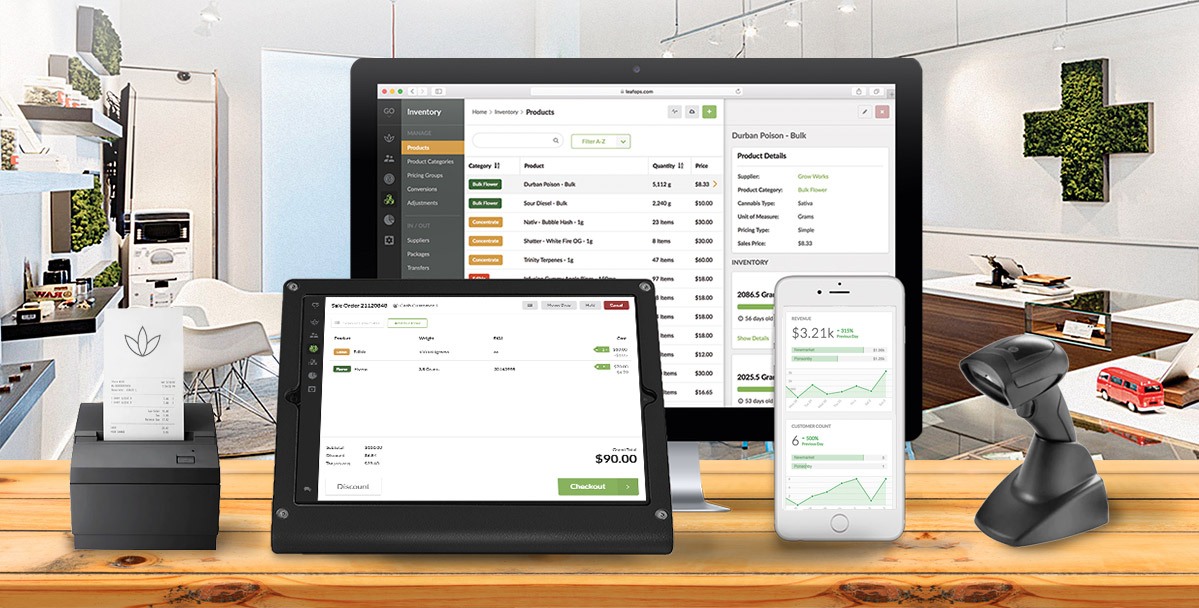 Stay Compliant
LeafOps helps you stay compliant with purchase limiting, ID checks, and real-time state traceability reporting.
Connected Traceability
All of your transfers, sales, and adjustments are synced with and reported in real-time to your state traceability system.
Enterprise Grade Security
Your data is backed up nightly and encrypted using HIPAA compliant methods. Your stores run in their own secured environments with redundancy to ensure 100% uptime.
More Revenue
Process orders faster and move your customers through your queue at record speeds.
Bigger Orders
Empower your budtenders with effective tiered pricing and discounts that will increase your average order size.
Less Discrepancies
Stop discrepancies before they happen. When they do, LeafOps will help you find and fix it fast.
Rock-solid Inventory
Keep close tabs on what inventory you have in your store, and where it's located.
Dispensary Software Features
Transfer Inventory with Ease
Sync inventory manifests seamlessly with your state traceability system, map them to products, then accept. Your inventory is now live and ready to sell in LeafOps.
Point Of Sale That Works How You Work
The LeafOps cash register was designed with ease-of-use and compliancy in mind.
Weigh-on-sale • Purchase Limiting • Shifts That Hold Your Budtenders Accountable • Controlled or Flexible Discounts • Customer Loyalty • Tiered Pricing
We know that no two employees are the same, and their permissions shouldn't be either. With LeafOps, each employee's access can grow as their trust grows with your company.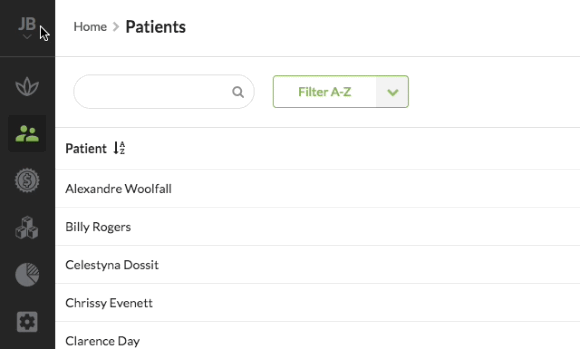 Multi-store support, Recreational and Medical
We support both recreational and medical stores, and allow managers/owners to easily switch between them. You can even share suppliers, users (employees), and customers between multiple stores.
Convert Bulk Inventory Into Sellable Items
Converting your inventory is a smart and intuitive process that will keep you in compliance.
All of your data is stored on your own database that uses HIPAA compliant methods to secure and store your data.
Medical-grade Security & Storage
Get text, email, or in-app alerts when inventory goes below a threshold, when a budtender closes a drawer with a discrepancy, or even when an order is discounted above a % threshold. With LeafOps alerts, you can stay on top of every aspect of your operation, without all of the hunting and pecking.
Offer incentives to buy more product to your customers. You make more profits while you're customers save more money.
Don't want to deal with loose change? You can set all of your prices to include tax. While pricing out your products, we'll show you the before and after tax amount. Additionally, you can round up order totals to the nearest nickel, dime, quarter, or dollar, further helping you save time and avoid human error.
One bud tender per drawer per shift, or multiple bud tenders per drawer per shift using the pin system.
Flexible Shift & Drawer Management
Shift reports make it easy to close out the day, or track down discrepancies. All the important details of each budtender shift is at your fingertips.
Award discounts to your loyal customers. Similar to discount rules you determine how many points are required to redeem a discount.
Keep track of where your inventory is in the store with storage locations.
In LeafOps You can create order based or item based discounts. You have total control over when, how, and by whom can apply discounts. You can even have discounts automatically apply to orders or items when the rule conditions are met. Item discounts can be applied to specific products, brands, suppliers, and much more!
Rule-based Discounts That Just Work
To help keep you in compliance, we have a flexible system for purchase limiting. You can specify maximum allowances per product category, and LeafOps will prevent you from over selling.
Another one of our many compliance features is the ability to require bud tenders to check IDs either on check-in, on creating a new order, before checkout, or at each step.
We are a team of enterprise-grade software engineers, user experience experts, and dispensary managers who have formed together to create a reliable and user friendly way to manage your dispensary.
Stephanie Yarbrough
CEO
Stephanie has 13 years in face-to-face relationships and selling for fortune 100 companies. She's led sales teams in all financial climates.
Her vision is to streamline process for the business owner, save money, maximize output and revenue, and minimize time waste while growing profit margins.
Her passion off the field includes volunteering efforts for women advocacy groups, watching her twin daughters grow into adulthood and enjoying anything outdoors.
Cory shaw
CTO
Cory has been designing and coding great user experiences for nearly 2 decades for many of the worlds top tech players such as Google and HP.
As a strong MMJ advocate, he brings his software design and engineering expertise to better serve the cannabis industry with enterprise-grade software you can count on.
When he's not at the computer he enjoys spending time with his family, running, surfing, snowboarding, and playing guitar.
Currently Serving Dispensaries in...
Your success starts here. Schedule a 30 minute demo where we can answer your questions and show you why LeafOps is the best way to manage your dispensary.